I'm sorry if this pic is going to kill your layout dear f-list but...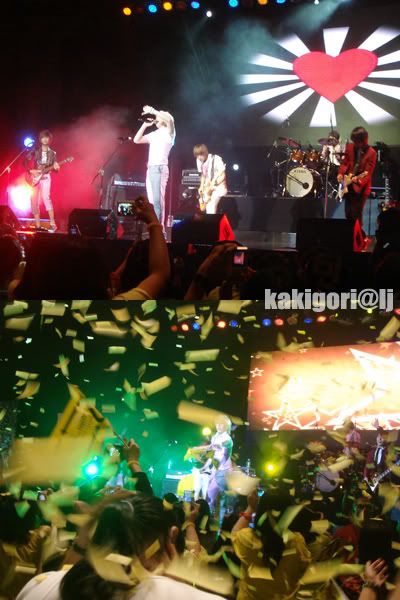 WATCHING F.T ISLAND LIVE IS ONE OF THE MOST AMAZING EXPERIENCE I'VE EVER HAD!!! ♥
F.T ISLAND
→ THEY FUCKING LOOK AMAZING AND SOUND BETTER IRL.
→ I honestly can't remember the order of the songs that they've performed in the showcase since I'm all busy ogling at the boys but the part where they performed "Raining" really moved me a lot. It's one of my favorite Japanese FTI songs and I totally didn't expect them to perform it. ;~; /shaking and crying
→
BITIN BITIN BITIIIIINNNNN.
I MEAN THEY WERE WORTH MY 5K B-BUT WE WANT MORE AWESOME LIVES FROM THEM FSHGSJAJHS;JKL!!1!! FTI, PLEASE COME BACK IN MANILA SOON WITH A FULL CONCERT PLEASE PLEASE PLEASEEEEEE.
JONGHUN
→ He's not even my FTI bias but damn, there are no words to describe how super good-looking he is irl. When FTI appeared on stage, he was the first member I've laid my eyes on. Boy looks like an angel, ok, that sounded cheesy but srsly, he looked like he just came down from the heavens fsgdjsjd and and he just literally ~*~glows~*~. *A* ♥
HONGKI
→ GOD HIS VOICE I DON'T EVEN KNOW HOW TO START FSHAJSHAKJSKA;JKL BUT TO MAKE IT SHORT, IT'S ONE OF THE MOST BEAUTIFUL THING EVAHRRRRR (and to think that he was kind of sick during the showcase, how much more amazing can his voice be if he isn't?). Anyway, I hope he feels better soon. ♥ Tbh, I didn't even know that he's sick until the end of the showcase /ugh, fail. OTL
JAEJIN
→ BB IS SUPER ADORABLE AND I JUST WANT TO KEEP HIM IN MY POCKET *3* AND HIS PARTS IN RAINING FSHDGSDJK;JKL SHAKING AND CRYING AGAIN. ♥
SEUNGHYUN
→ HE'S MY #1 MEMBER ATM BUT I ONLY HAVE ONE GOOD SOLO PICTURE OF HIM I CRY CRY TTATT HE WAS ON MY FAR LEFT AND HE HAD THE LIGHTS BEHIND HIM SO THE PICS THAT I'VE TAKEN OF HIM WERE EITHER BLURRY OR WERE RUINED BY THE LIGHTS. FEEL SO SAD.
→ ON THE BRIGHT SIDE, BASELESS CONFIDENCE SURE IS HANDSOME IRL AND HE CAN TOTALLY WORK THAT GUITAR AND AND HIS LEGS THEY BE SO LONGGGGG *A* AND I KEPT ON SPAZZING AND FLAILING LIKE A MAD WOMAN WHEN IT WAS HIS TURN TO SING OR RAP FSDFHDKGJ;KL. ♥
MINHWAN
→ BABY BOY LOOKS SO FIIIIIIIIIINE AND HE'S SUCH A BAMF WHILE PLAYING THE DRUMS FSHSGDJ;KL ♥ but poor maknae didn't get enough stage time and he wouldn't even be noticed (HE WAS BEHIND HIS DRUM SET FOR ALMOST THE WHOLE TIME DURING THE SHOWCASE JFC) by Grace Lee if we haven't called out his name during the Q&A part. I hope your hyungs made it up to you afterwards since you left the stage looking a bit annoyed. *huggles*
RANDOM HIGLIGHTS
→ LOTS OF JONGKI (OBVS) AND SEUNGJAE FSGDJSKDJSKDJS;JKL I JUST TURNED MYSELF INTO A SEUNGJAE SHIPPER AHHHHHHHHHHHHHHHHHH I AM SO SORRY MY WONJIN OTP BUT SEUNGJAE IS SO ADORBS TOGETHER IT'S SO HARD TO RESIST FSHAGSHAJSHAJAHSJ!1!! ♥
→ HONGKI AND JONGHUN LIKES GIRLS WITH BIG BOOBIES. LOL IRL.
→ SEUNGHYUN MOCKING HONGKI'S "JOLIEEEEE~" AND GETTING A KICK FROM HONGKI IN RETURN FSHDJSDJKS;JKL CUTE MUCH.
→ HONGKI'S ~*~BALLERINAAAA~*~ MOVE ㅋㅋㅋㅋㅋㅋㅋㅋ
→ NEEDS MORE MINHWAN STAGE TIME PERIOD. POOR BB~ NUNA WILL GIVE YOU ALL THE ATTENTION AND LOVE. ;A; ♥
I WANT TO WRITE MORE ABOUT HOW EPIC THIS SHOWCASE IS BUT I'M NOT FEELING WELL ATM
I THINK I CAUGHT SOME OF HONGKI'S GERMS LOL HOW PSYCHO OF ME
SO I'M GOING TO GET SOME REST NOW AND WILL JUST POST MY SHOWCASE PICS SOON. GOOD NIGHT DEARIES~ ♥
P.S.: Here's a more detailed
fan account
from friend
aoimidori
(I think mine's pretty useless LMAO) and some
showcase pics
taken by friend
aoi_sumeragi
/sorry gaiz I be pimpin' you out HEHE.
Current Mood:
happy
Current Music: F.T Island - Everything is Possible